Academy of Wizardry & Witchcraft
Date: January 20 2024
Time: 11am OR 2.30pm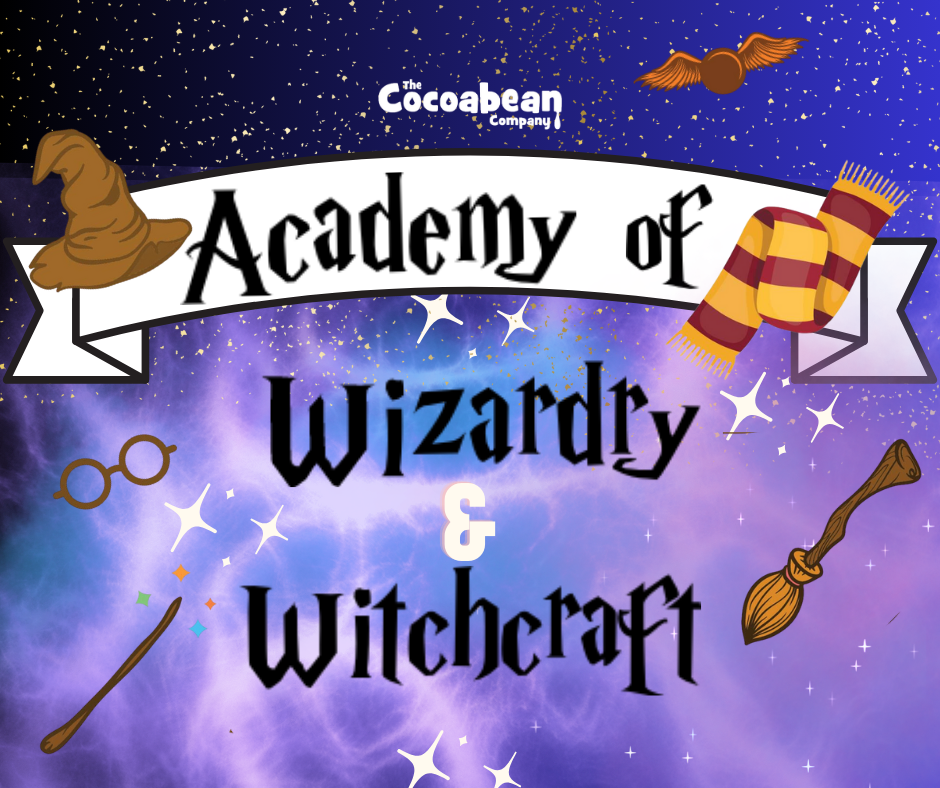 This very special event will take place inside our magical marquee, complete with your House representatives!
Wizarding tasks include:
🦁 Sorting Ceremony – which house will the hat put you in? 🐍
🌟 Wand selection 🌟
⚗️ Potion Making ⚗️
🧙‍♂️ Broomstick class 🧙‍♂️
📸 Photo Opportunities 📸
and lots more Wizarding Activities!
Once all activities have been fulfilled you will officially graduate as a fully fledged wizard with a certificate!

This event will last approx. 1 hour and a half and will take place in the Cocoabean marquee however a ticket also includes free entry to our indoor & outdoor play areas, accessible from the main building, which is open from 9.30am – 5pm.
ENTRY TO ROLE PLAY AREA IS NOT INCLUDED
If you have children who wish to be in the same group please book under one reservation.  Children cannot be moved on the day.
Based on the activities planned for this event, and experience from previous events we are advising as a guide that Academy of Wizardry & Witchcraft is suitable for children aged 5 and above. However we know that every child is different and it is at your own discretion if you would like to bring along a younger wizard! Parents/guardian's are welcome to walk round and assist with the activities if required.

When is it?
Saturday 20th January at 11am 
Saturday 20th January at 2.30pm
Add a Chocolate Workshop!
The fun doesn't have to stop once your little wizard has graduated from the training academy! We are also running wizard themed chocolate workshops (think chocolate frogs) straight after every event that will last 30 minutes and will include two chocolatey items.
Academy of Wizardry & Withcraft only – £25
Academy of Wizardry & Witchcraft + Chocolate Workshop – £32.50
Adults are free of charge to enter to assist the little Wizard. Children without a ticket will not permitted into the marquee.  
Personalised Invitation!
Why not order a personalised INVITATION to be delivered through your door and really spark their imaginations! Personalised Invitations can be ordered at the same time as your tickets on our booking system and cost £3 per invite, plus one £2.50 delivery fee (1st Class Royal Mail, Signed for Delivery).

By purchasing a ticket to Academy of Wizardry & Witchcraft you are agreeing to the following terms & conditions:
Customers are entitled to a full refund (minus booking fee) if the ticket(s) are cancelled within 24 hours of purchase. After this time, no refunds will be given so please check dates & times carefully before purchasing any tickets.
Customers are entitled to reschedule ticket(s) to a different date or time, up until and including Monday 18th December and subject to availability. After this date, no further changes can be made. Any changes to original booking will incur a £2.50 admin charge.
No refunds, reschedules or voucher equivalents will be provided in the case of no-show on the day, regardless of the circumstances.
It is your responsibility to arrive in plenty of time for your chosen event so please plan accordingly. Event start times cannot be delayed under any circumstances so in the event of a late arrival you may forfeit your booking (with no refund).
If  The Cocoabean Company cancels the event for any reason, a full refund will be issued.