Nerf Battle Zone!
Date: 6 July - 30 August 2019
Time: Available 6th July - 30th August
Location: Twynholm, Dumfries & Galloway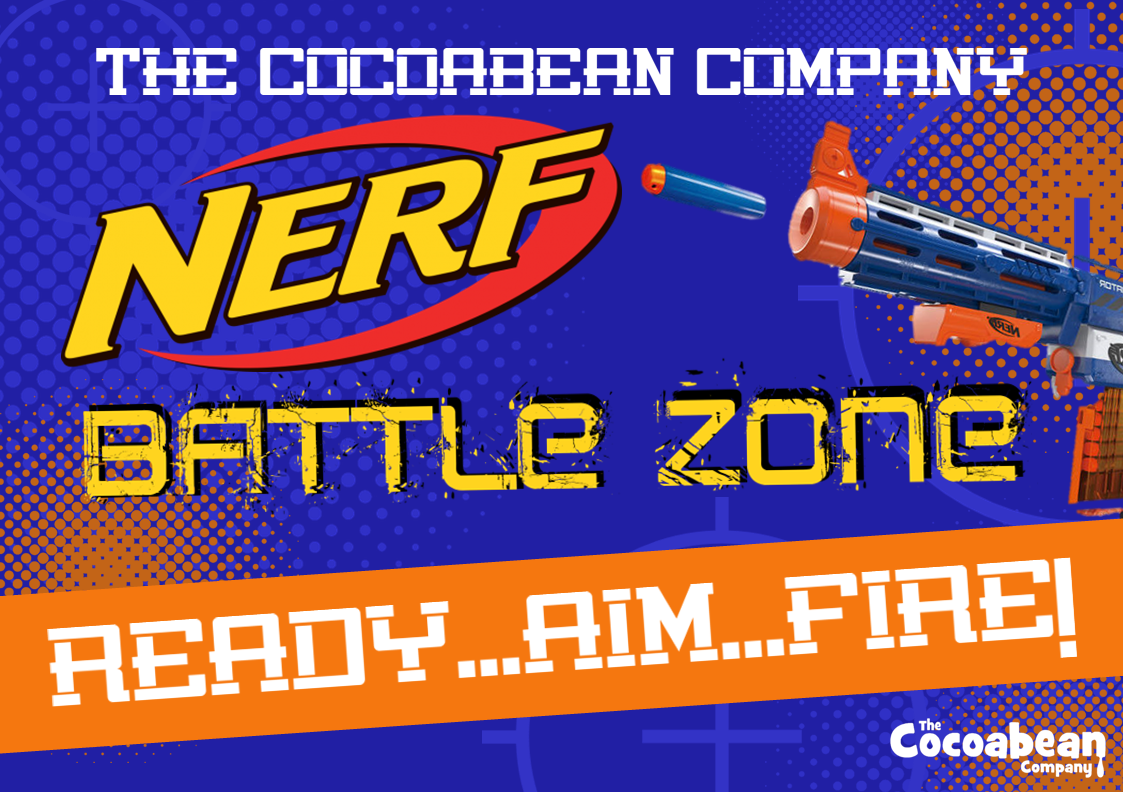 Join us this Summer at The Cocoabean Company as our marquee is transformed for the first ever
NERF BATTLE ZONE!
Do you have what it takes to make it through all four zones of the Battle Arena?
Zone 1 - Target Practice
After you've recieved your team briefing and suited up ready to start, you'll enter Zone 1 for some target practice! Ready…aim…fire!
Zone 2 - Beat The Sniper
Can you make your way through the obstacle course as our highly trained sniper try to wipe you out? Avoid being shot at all costs! This is a true test of agility and courage!
Zone 3 - Capture The Flag
In this head to head challenge, it's a race against time to capture your opponets team flag! Who will get there first?
Zone 4 - Free Play
Once you have completed all the Nerf Battle Zone challenges, you can run off any leftover steam during free play before heading to the debrief station for photo's and awards.
All participants will be provided with a Nerf gun, soft dart ammunition and safety goggles.
Sessions
We have something for all ages – including ADULTS ONLY sessions so every one can battle it out in our purpose built arena! Please read the information below carefully before booking your tickets.
Mini Defenders
This session is recommended for children aged 6 and under. One adult per child may enter the arena to assist with reloading Nerf guns.
Juniors Invaders
This session is recommended for children aged 7 and above. No adults are permitted in to the arena during this session and all players must be able to reload the Nerf guns independently. If your child is unable to reload themselves, please book a Mini Defenders ticket.
Family Session
In this session adults and children can take part together for some family fun! Any adult who would like a Nerf gun and ammunition must purchase a ticket. Up to one adult per child may enter free of charge in a supervisory role – this adults will not recieve a Nerf gun.
Adult Only Session
This is our after hours, adults only session. You must be aged 16 years or older to take part in this session.
Rules & Waiver
As this event contains a level of risk, there are Terms & Conditions that must be read and agreed to, and Rules that must be agreed and adhered to at all times. All participants must download a copy of the waiver to sign and bring with them on the day of their event. No participant can take part without a signed waiver. All participants aged under 16 years must have their waiver signed by a legal guardian.
Click the button below for a copy of the full Rules, Terms & Condtions and the Waiver.
How To Book
Nerf Battle Zone is running from Saturday 6th July until Friday 30th August. Simply click the date you want to visit from the calendar below. You will then be taken to another page with the full list of tickets and availability. The Nerf Battle Zone schedule includes different age groups, so be sure to check all the info before booking.
YOU MUST READ ALL THE TERMS & CONDITIONS OF PARTICIPATING IN NERF BATTLE ZONE BEFORE PURCHASING ANY TICKETS.
July 2019
August 2019